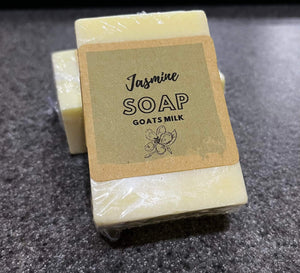 Jasmine Goats Milk Soap
Native to Southeast Asia, Jasmine is a sacred flower often used as an emblem of love and divine hope.

Our Jasmine soap is handmade with fresh goat milk from and natural, moisturizing oils and butters, free of alcohols, detergents and harsh chemicals.

We make our goat milk soaps with seasonal ingredients in small batches and hand-cut them into bars. As a result, there may be very slight variations in color, size and shape between bars.