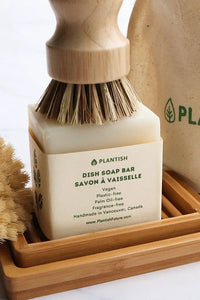 Dish Soap Bar - Unscented
This plastic free dish soap eliminates the need to purchase dish soap in plastic bottles. Gentle on hands, it cuts grease effectively and pairs perfectly with a dish cloth or one of our pot scrubbers, or a loofah. It is also a powerful stain remover for any oil and stained on fabrics, such as sponge cloths and produce bags.

Vegan, plastic free, palm oil free, 100% compostable.

This soap brick replaces 3.5 bottles of regular dish soap.