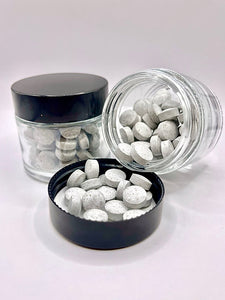 Charcoal Mint Toothpaste Tablets
Great for travel! Tooth paste Tablets can be bought separately or as a month supply.
Month Supply Contains 60 Tablets.
By Fresc Oral Care


How to use:

Crunch one tablet up between your teeth (a few bites should do it) to create a paste. Grab a wet toothpaste and brush as usual.

 


Ingredients:

MCC(Microcrystalline Cellulose), Xylitol, Natural Peppermint Flavor, Twist Acid, Xanthan, Guar Gum, Magnesium Stearate, PEG Bright White Factor.