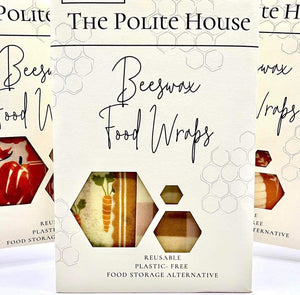 Beeswax Food Wraps
Set of 3. Large, Medium, and Small.
Food storage alternative, Reusable, and Plastic Free.
Made by: The Polite House

Ingredients:
Organic cotton, Beeswax, Pine Rosin, Jojoba Oil.

How to use:
Warm: Use hands to warm & activate wax
Use: Seal around dish, jar, food halves, or make a pouch
Wash: Hand was with mild soap &cold water. Air dry. Store in cool/dry place.
Reuse: Lasts 9-12 months. Compostable.